Unacceptable. I've been a bit swamped, but let's see if we can put together a highlight reel. I'll start with
West of Memphis
.
Saw
West of Memphis
, which is powerful in a way that the
Paradise Lost
films (without which this movie would never have been made, of course) couldn't possibly be. Okay, the first
Paradise Lost
film is pretty devastating, but still.... There's something thrilling and unsettling about
West of Memphis
, not just in its investigation of infuriating governmental ineptitude, but also in its brazen investigation of Terry Hobbs, clearly a prime, neglected suspect. Even so, it doesn't make it any less creepy to hear of some P.I. paid for by Peter Jackson stealing cigarette butts out of his ashtray for DNA samples.
But more resonant to me than any of the specifics about the investigation, trial, private investigation, or appeals, are the new stories and people the movie introduces the audience to. Amanda Hobbs is heartbreaking, undeniably damaged by things that happened when she was around 3-years-old. With her oversized t-shirt and rolled up sleeves, cigarettes and heavy eyeliner, she's eerily familiar to me.
And interviews with David Jacoby, the the working man with a foot-long beard who provides Hobbs with an imperfect alibi, are raw and tough to watch. He's emotional and confused, having to walk off-camera because he's so rattled by the past and its unanswered questions. In watching it you feel like you're intruding on something almost too painful to be filmed.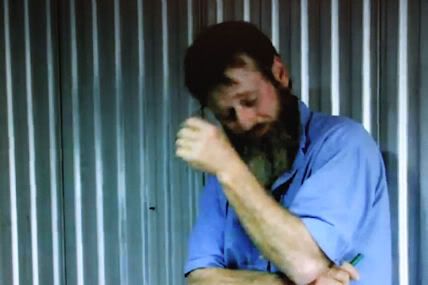 The movie's a contender for Best Documentary at the Oscars this year, just like
Paradise Lost 3
was last year. I've seen three of the best doc noms this year (
Searching for Sugar Man
and
How to Survive a Plague
-- my favorite). They were all great; this is a strong year for them. Here's a trailer.