A real highlight of last weekend's SF trip was my long-delayed return to City Lights Books. The last time I was there was during my first trip to San Francisco way back in 2001. I was attending the wedding of a friend in Berkeley and took half a day out of my weekend to make the trek into the city by myself and see as much as I could.
I remember being knee deep in research for my thesis play,
War and Jim
, reading everything I could about the New York School of Poets; on the plane from Pittsburgh, I had burned through the first chapters of of the CMU Library's copy of Brad Gooch's biography of O'Hara,
City Poet
, taking a special pleasure in the passages about his time in the city as a young man in the Navy.
An aside: I just pulled out my copy of
City Poet
to find something pertinent to add here. There's a bit about a short story he wrote as a student called "Lament and Chastisement," that contains a description of San Francisco--
and there was the fresh old city, gauche and precious, wide avenues, tiny streets, hills and troughs for cable cars, there was wind blowing, the scent of lavender, and snow in the air.
Another aside: my copy of the biography is a treasured gift; a gently used volume, carefully and thankfully wrapped in mylar. Just moments ago on consulting the book for this post I saw something I'd never noticed before. Written in pencil on the top right hand corner of the first page, "Happy 30th Kyle! Love Matt and Trista."
Back to
City Lights
: when I got there on that day in 2001 and discovered they had such a spacious, welcoming poetry room, I felt like I'd stumbled onto a treasure chest; I remember staying up there for a long time, browsing and reading and picking out at least one O'Hara book to take home with me.
Last Sunday I rushed up there even quicker, remembering it fondly and wondering how many things I'd want to take home with me. The first thing on my list was something by at least one of the Dickman brothers, who had that
great profile in the New Yorker last spring
. I managed to get copies of each of their first books.
I really hit the jackpot with a signed edition of
Portrait and Dream: New and Selected Poems
by Frank O'Hara's friend, subject, and collaborator, Bill Berkson. That purchase has stimulated a lot more dipping into the biography, along with the collected poems, just to remind myself of that history.
Edmund White's bio of Rimbaud was calling out to me as well; I walked around with it for a long time before finally using the "I'm supporting independent bookstores!" justification to add it to the stack. To feel further justified, I made it through over half of it in the car on the way back, reading occasional passages aloud to JW when they got excessively scandalous.
It's nice to reconnect to poetry, especially in a bookstore that gives so much space to it. I had so much fun I added a postcard souvenir to my already abundant bounty; it's a darling photo of Ginsberg and Orlovsky; I found a version of it online for you: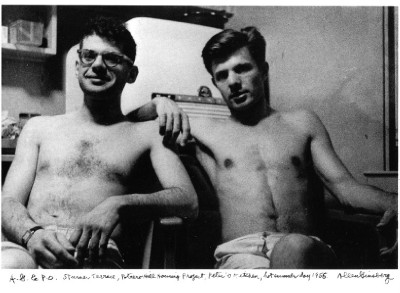 It is the birthplace of the Beats, after all!